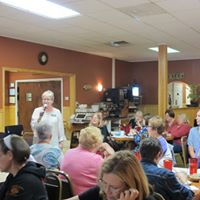 Upper Perkiomen BPW meets on the second Monday of each month September through June. We meet at the Valley Cafe in Pennsburg. If there is inclement weather we adopt the Upper Perkiomen School District Closing Schedule. If the School District closes for the day OR closes early on the day of our meeting, The meeting will be canceled and immediately rescheduled for the following Monday.
2019 / 2020 Dinner Meeting Programs
September: Welcome Back Dinner
October: Woman and Employer of the Year / Domestic Violence Awareness Month
November: Speed Networking
December: Christmas Party with Quakertown BPW
January: TBA
February: TBA
March: TBA
April: Women in History Awards
May: TBA
June: Awards Night / Induction of 2020 / 2021 Board
Business Women's Networking Happy Hour and Business Card Exchange
This event is open to the public. Send the Business Women from your Organization to this Fabulous Event.